Presentation of an academic paper and project presentations at the eceee Summer Study
CACTUS activities culminated at the 2022 edition of the eceee Summer Study an international CACTUS delegated represented the project and its result in a formal and an informal session.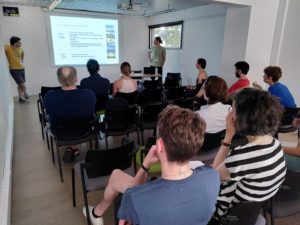 An academic paper led by Mahsa Bagheri was presented by Yves Marignac in the formal session, which explores the potential of energy sufficiency regarding energy and climate policy goals in the transport sector in "catching-up economies" in Central and Eastern Europe.
It discusses the building of energy sufficiency assumptions and analyses the methods and challenges for integrating these assumptions in scenario models of the target countries in the project, Hungary and Lithuania. By providing exploratory quantitative and qualitative analysis of sufficiency potentials, the paper explores the path towards more ambitious mitigation strategies.
In the informal session, Viktor Racz presented and discussed key CACTUS results and modelling with eceee participants, in a session on the integration of sufficiency in European climate scenarios and strategies.